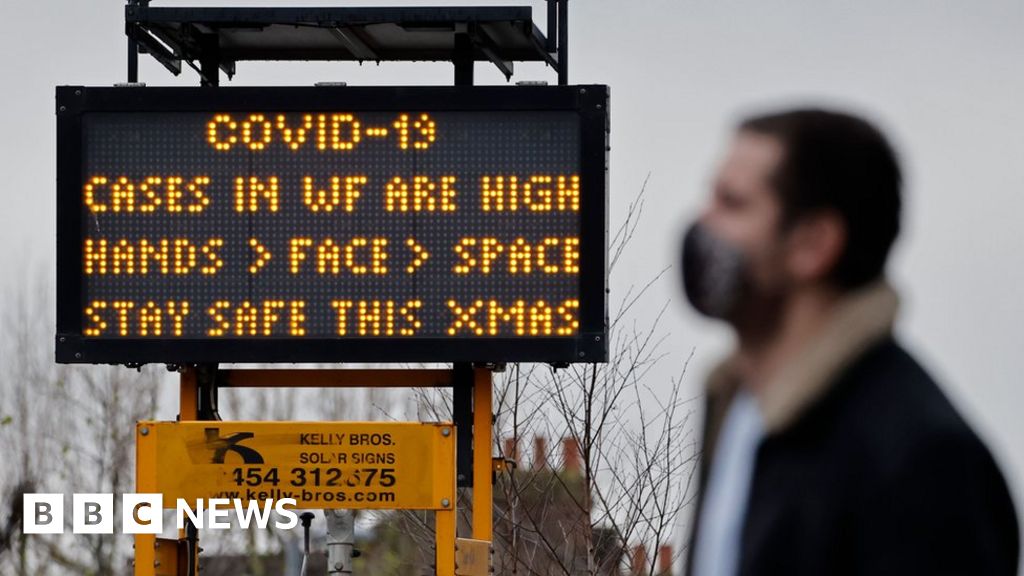 More than 70,000 people in the UK have now died within 28 days of a positive Covid-19 test, official figures show.
A further 570 deaths in the UK were reported on Christmas Day, taking the total by that measure to 70,195.
According to Johns Hopkins University, only the US, Brazil, India, Mexico and Italy have recorded more deaths from coronavirus.
The number of people who tested positive for Covid-19 in England and Scotland increased by 32,725 on Friday.
It came as the number of tests conducted over the last seven days rose by more than 25% compared to the previous week.
The government explained that the amount of data available will vary over the Christmas holiday period, with any unreported deaths and cases recorded on the following days.
"As a result, any changes to published data should be interpreted with caution during this period, as they may be a result of changes to reporting schedules," it said.
According to Office for National Statistics data there have been than 81,361 excess deaths, those over and above what would usually be expected for the time of year, up to 11 December.
Levels of infection are continuing to rise in England, the ONS has said, with figures for the week to 18 December estimating nearly 650,000 people have the virus, up from 570,000 the week before.
The rising number of deaths came as the UK marked a different Christmas with people under the toughest restrictions in England prevented from meeting other households indoors, while elsewhere planned relaxations of restrictions were cut to just one day on 25 December.
In England, six million more people are due to enter the highest level of restrictions on Boxing Day while other areas will move up into higher tiers after Downing Street warned the old system was not enough to control a new variant of the virus.
And from Monday, all airline passengers arriving in the US from the UK will be required to test negative for Covid-19 within 72 hours of departure, amid concerns over the new variant.
So far, the UK has approved the use of the Pfizer/BioNTech coronavirus vaccine, with more than 500,000 people having been given the first dose, and Health Secretary Matt Hancock said on Wednesday the Oxford/AstraZeneca vaccine had now submitted full data to the medicines regulator for approval.
Covid: Sharp rises in infection levels in England, says ONS
Covid-19: UK sees over 80,000 excess deaths during pandemic
Moderna vaccine appears to work against variants
Laboratory tests suggest antibodies can recognise and fight the UK and South Africa variants.
Curfew riots rage for third night in Netherlands
The migrant helping Australia with modified masks. VideoThe migrant helping Australia with modified masks
The 'punchline queen' who offended Chinese men
That's not my palace, says Putin
'First Dogs' arrive at the White House
Has US vaccine rollout been a 'dismal failure'?
How India calculates value of women's housework
Boeing 737 Max cleared to fly again 'too early'
What it's like under one of world's strictest lockdowns
Are Egypt's dreams of democracy still alive? VideoAre Egypt's dreams of democracy still alive?
'I couldn't see my baby for eight weeks'
Lyrics quiz
Have you been getting these songs wrong?
Feeling hot
What happens to your body in extreme heat?
That's not my palace, says Putin1
Moderna vaccine appears to work against variants2
Curfew riots rage for third night in Netherlands3
Knightley rules out sex scenes directed by men4
Trump lawyer Giuliani sued by voting machine firm5
Has Sarah Sanders found her political launching pad?6
Chinese and Indian troops 'in new border clash'7
Biden adds South Africa to Covid travel bans8
'First Dogs' arrive at the White House9
Biden overturns Trump transgender military ban10
© 2021 BBC. The BBC is not responsible for the content of external sites. Read about our approach to external linking.