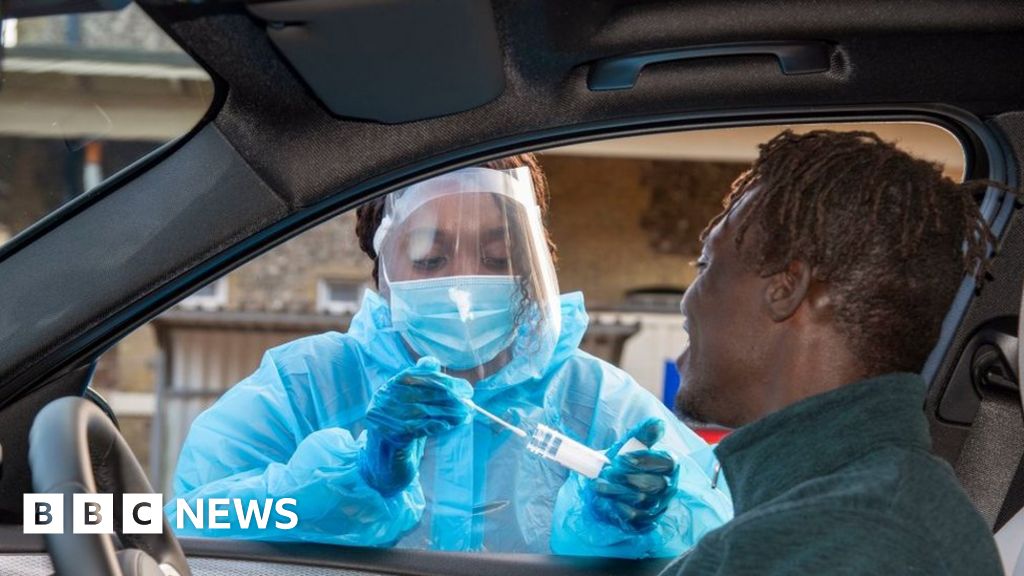 A further 30,501 positive tests for coronavirus were reported on Sunday, as hospitals in parts of the UK warn they are at risk of being overwhelmed.
Another 316 people died within 28 days of a positive test, bringing the total to 70,752.
The true numbers are likely to be higher as some parts of the UK are not reporting data over Christmas.
Northern Ireland has not reported cases or deaths and Scotland has not reported deaths.
It comes as doctors in Scotland warned that the health system was "severely stretched" and a Welsh hospital made an urgent appeal for help with Covid-19 patients on Saturday night.
Wales recorded 70 deaths on Sunday of people who had contracted coronavirus.
Meanwhile, London Ambulance Service said it had been dealing with more than 400 calls an hour on Sunday afternoon and urged people to only call 999 in an emergency.
With almost 8,000 calls on Boxing Day, demand for ambulances in London almost matched 16 March, one of the service's busiest ever days.
Crews arriving at one London hospital had a typical wait of six hours before they could hand over patients to overstretched hospital staff.
One paramedic told the BBC that some patients had been treated in ambulance bays because of a shortage of beds.
An LAS memo said the rising demand was down to the "rapid spread of the new variant of the Covid-19 virus".
Saffron Cordery, deputy chief executive of NHS Providers, said hospitals in London and the south of England were under "real pressure" due to demand from Covid-19 and other conditions, as well as staff absence.
"The public should be under no illusions that this is one of the most challenging times for the NHS," she said.
Meanwhile, NHS England said coronavirus vaccinations had been paused on Christmas Day and over the weekend but would resume on Monday.
The capital has the highest coronavirus infection rate of any UK region, with 794.6 cases per 100,000 people over the last seven days. On Sunday, it reported another 9,719 infections.
But in some parts of Essex, the infection rate is even higher. In the seven days up to 23 December, Brentwood had the highest number of cases per 100,000 people at 1442.5, followed by Epping Forest (1388.1) and Thurrock (1330.7).
Essex County Council said it had increased testing in areas where infection rates were known to be high as part of a strategy to identify more cases and "break the chain of transmission".
Nine out of 10 local authorities in England saw a rise in coronavirus cases in the seven days up to 23 December.
Covid: Cardiff health board plea for critical care help
Covid in Scotland: Health leaders warn NHS could be 'overwhelmed'
Moderna vaccine appears to work against variants
Laboratory tests suggest antibodies can recognise and fight the UK and South Africa variants.
Curfew riots rage for third night in Netherlands
The migrant helping Australia with modified masks. VideoThe migrant helping Australia with modified masks
The 'punchline queen' who offended Chinese men
That's not my palace, says Putin
'First Dogs' arrive at the White House
Has US vaccine rollout been a 'dismal failure'?
How India calculates value of women's housework
Boeing 737 Max cleared to fly again 'too early'
What it's like under one of world's strictest lockdowns
Are Egypt's dreams of democracy still alive? VideoAre Egypt's dreams of democracy still alive?
'I couldn't see my baby for eight weeks'
Lyrics quiz
Have you been getting these songs wrong?
Feeling hot
What happens to your body in extreme heat?
That's not my palace, says Putin1
Moderna vaccine appears to work against variants2
Curfew riots rage for third night in Netherlands3
Knightley rules out sex scenes directed by men4
Trump lawyer Giuliani sued by voting machine firm5
Has Sarah Sanders found her political launching pad?6
Chinese and Indian troops 'in new border clash'7
Biden adds South Africa to Covid travel bans8
'First Dogs' arrive at the White House9
Biden overturns Trump transgender military ban10
© 2021 BBC. The BBC is not responsible for the content of external sites. Read about our approach to external linking.