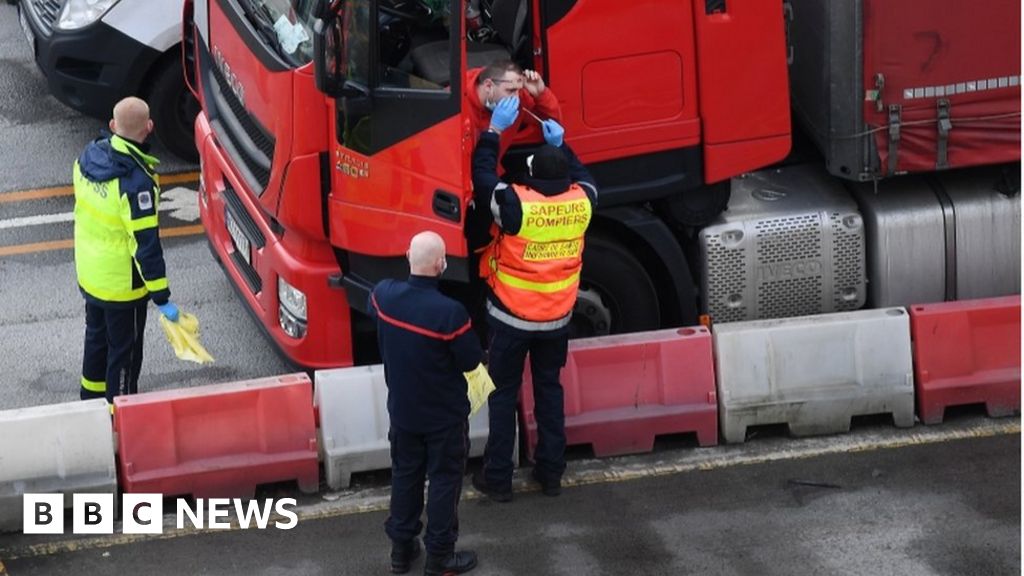 Thousands of lorry drivers waiting to cross the English Channel to France are spending Christmas Day in their cabs in Kent.
Hundreds of military personnel have been deployed to help clear the backlog of about 5,000 lorries, which are waiting at Manston Airport.
Drivers are allowed to travel on the condition they test negative for Covid-19 before boarding a train or ferry.
Transport Secretary Grant Shapps said more than 10,000 tests had been done.
He said out of those lorry drivers who had been tested, 24 were positive for coronavirus.
Thanks to all the hauliers in #Kent for their patience & to everyone on the ground working tirelessly to help after the French border was suddenly closed.Over 10,000 tests have taken place & over 4,500 HGVs are back over the Channel. 🚚@DefenceHQ working to keep things moving pic.twitter.com/JVcEHd7vRQ
France closed its border after the UK warned of a fast-spreading variant of coronavirus but ended its ban on Wednesday, providing people tested negative before travelling.
More than 700 hauliers have been cleared for departure since France reopened its border.
But about 5,000 remain unable to get home and are waiting at Manston Airport, on a closed section of the M20, and in Dover.
French firefighters have been supporting the testing effort, and a group of Polish medics was deployed to the UK on Thursday to help test drivers. the Polish news website TVN24 has reported.
Some lorry drivers have already spent nearly a week stranded following the closure of the border on Sunday.
Mr Shapps said: "We need to get the situation in Kent, caused by the French government's sudden imposition of Covid restrictions, resolved as soon as possible.
"I know it's been hard for many drivers cooped up in their cabs at this precious time of year, but I assure them that we are doing our utmost to get them home."
The government said catering vans were providing hot food and drinks to stranded hauliers at Manston, with Kent Council and volunteer groups providing refreshments to those stuck on the M20.
HM Coastguard said its teams in the Dover area had so far delivered 3,000 hot meals, 600 pizzas, 2,985 packed lunches and 17 pallets of water to those waiting.
Southeastern Railway and Network Rail arranged for food to be delivered to lorry drivers stuck in Operation Stack on the M20.
Seven trains carrying crates of food for the hauliers have left London in the past 48 hours, with the Salvation Army distributing the items.
There are more than 250 toilets at Manston, with a further 32 portable toilets added to existing facilities already along the M20.
A Port of Dover spokesman said ferry services had run throughout Christmas Eve night and would continue on Christmas Day to help ease congestion.
Duncan Buchanan, from the Road Haulage Association, said: "The most reassuring thing is that food is getting through at Manston, and I have to say a big thank you to everyone who volunteered to help."
Or use this form to get in touch:
If you are reading this page and can't see the form you will need to visit the mobile version of the BBC website to submit your comment or send it via email to HaveYourSay@bbc.co.uk. Please include your name, age and location with any comment you send in.
Kent lorry chaos: More military support deployed for driver tests
Kent lorry chaos: Truckers warned of Christmas in their cabs
Covid-19: Charities send food to stranded truckers
Ministry of Defence
Department for Transport
The Salvation Army
Council considering £1.5m lifeline to help save leisure centres
MP's 'positive vibes' as she prepares for radiotherapy
'Cases fall but stay alert'
Vaccine hub agreed for Deal, MP reveals
Information about BBC links to other news sites
Moderna vaccine appears to work against variants
Laboratory tests suggest antibodies can recognise and fight the UK and South Africa variants.
Curfew riots rage for third night in Netherlands
The migrant helping Australia with modified masks. VideoThe migrant helping Australia with modified masks
The 'punchline queen' who offended Chinese men
That's not my palace, says Putin
'First Dogs' arrive at the White House
Has US vaccine rollout been a 'dismal failure'?
How India calculates value of women's housework
Boeing 737 Max cleared to fly again 'too early'
What it's like under one of world's strictest lockdowns
Are Egypt's dreams of democracy still alive? VideoAre Egypt's dreams of democracy still alive?
'I couldn't see my baby for eight weeks'
Lyrics quiz
Have you been getting these songs wrong?
Feeling hot
What happens to your body in extreme heat?
That's not my palace, says Putin1
Moderna vaccine appears to work against variants2
Curfew riots rage for third night in Netherlands3
Knightley rules out sex scenes directed by men4
Trump lawyer Giuliani sued by voting machine firm5
Has Sarah Sanders found her political launching pad?6
Chinese and Indian troops 'in new border clash'7
Biden adds South Africa to Covid travel bans8
'First Dogs' arrive at the White House9
Biden overturns Trump transgender military ban10
© 2021 BBC. The BBC is not responsible for the content of external sites. Read about our approach to external linking.