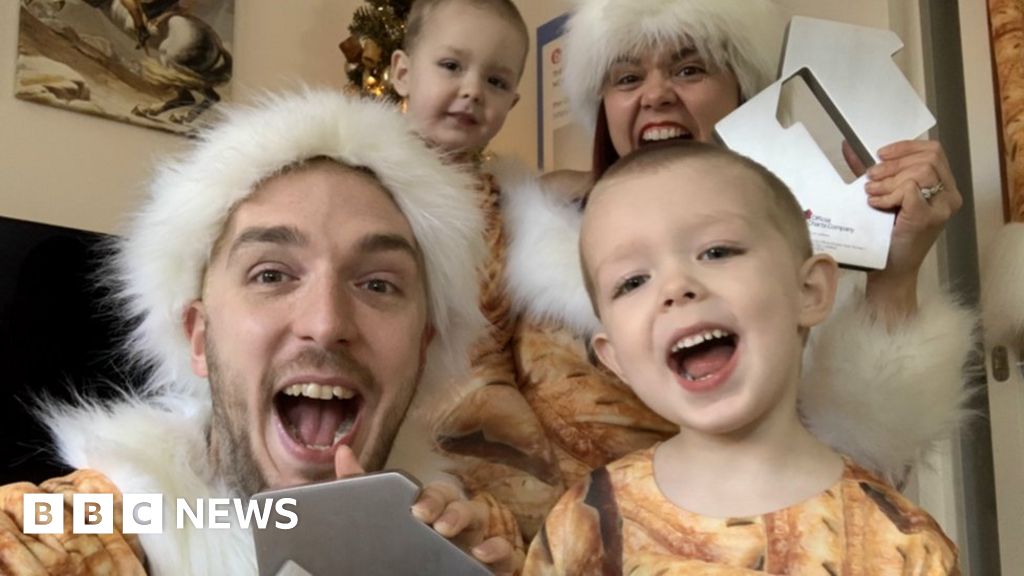 LadBaby has become only the third act in UK chart history, after The Beatles and the Spice Girls, to score three straight Christmas number one singles.
The charitable sausage roll singer fended off competition from a Mariah Carey classic, and a protest song about Prime Minister Boris Johnson.
Sir Paul McCartney, meanwhile, topped the festive album chart, on Friday.
"I can't believe we've done it once, never mind three times," LadBaby told BBC Radio 1 presenter Katie Thistleton.
His latest offering, Don't Stop Me Eatin', which is raising money for The Trussell Trust food bank charity, was a pastry take on Journey's Don't Stop Believin'.
It followed his previous successful efforts, 2018's We Built This City… On Sausage Rolls; and I Love Sausage Rolls, from last year.
"We know the British public love a sausage roll," the hat-trick hero continued.
"And I think after the year we've all had we just wanted to come back and make everyone smile."
His new song, which was helped along by the release of a surprise alternative version with Ronan Keating earlier this week, became the fastest selling UK single in more than three years, since Artists For Grenfell's Bridge Over Troubled Water.
It also dislodged Carey's All I Want For Christmas Is You at the summit.
The diva's ubiquitous hit had reigned supreme for the past fortnight, remarkably for the first time since its release 26 years ago.
LadBaby now finds himself in exalted company, alongside The Beatles, who dominated the Christmas number one spots between 1963-65, with I Want To Hold Your Hand, I Feel Fine, and the double A-side Daytripper / We Can Work It Out.
As well as the Spice Girls, who had three in a row from 1996-98, with 2 Become 1, Too Much, and Goodbye.
YouTube comedian LadBaby, whose real name is Mark Hoyle, described 2020 as "our most important year yet" to help people, due to the impact of coronavirus.
He spoke to BBC News last week about why he and his band – aka wife Roxanne and their children – changed their minds after previously saying they wouldn't go for a third. "We'd run out of songs with rock 'n' roll in the title, because that's been our go-to – you find a song with rock 'n' roll in the title and it's a good change [to sausage roll]," he said.
"We wanted to choose a song that people love and can sing to," he continued. "The best way is to look at karaoke songs, and Don't Stop Believin' always features highly on most karaoke lists.
"We felt like after the year everyone's had, it's a sentiment everyone needs – don't stop believing things are going to get better. It felt very fitting, so we had to weave some sausage roll magic into the lyrics."
Christmas 2020 UK top five singles
Christmas 2020 UK top five albums
Elsewhere in the singles chart, an expletive-laden song about PM Boris Johnson, by an Essex synth-pop outfit (whose name we can't really mention here without losing our jobs) also made the festive top five; and was at one-point the UK's second most-downloaded song of the week.
Justin Bieber's cover of Rockin' Around The Christmas Tree [number eight] and Liam Gallagher's All You're Dreaming Of [24], which raised money for Action for Children, also proved popular this year.
McCartney III, the "fun" lockdown album by former Beatle Sir Paul, gave him his first number one LP in 31 years – since 1989's Flowers In The Dirt.
"I just want to say happy Christmas, happy New Year, and a big thank you to everyone who helped get my record to number one in the album charts," the rock 'n' roll knight of the realm told the Official Charts Company.
Taylor Swift's surprise new album, Evermore, was close behind him in second.
Also on Christmas Day, it was announced by music licensing company PPL that The Pogues' widely-debated track, Fairytale Of New York was officially the UK's most-played Christmas track of the 21st Century.
Last month, Radio 1 decided to stop playing the original version of the song in full, because its audience may be offended by some of the lyrics.
(The track, which features the late Kirsty MacColl, finished sixth in this week's official singles chart, as one of 26 Christmas songs in the top 40.)
All I Want For Christmas Is You had to settle for second place once again in that poll of the past 20 years, while Wham!'s Last Christmas finished third overall – just as it did in this week's singles chart too.
You can listen to Radio 1's Christmas No.1 show, and Radio 2's 40 Most-Played Christmas Songs of the 21st Century now on BBC Sounds.
LadBaby launches bid for third Christmas number one
Sir Paul McCartney on his lockdown album: 'I was just messing around'
Fairytale of New York: BBC Radio 1 will not play original version
Moderna vaccine appears to work against variants
Laboratory tests suggest antibodies can recognise and fight the UK and South Africa variants.
Curfew riots rage for third night in Netherlands
The migrant helping Australia with modified masks. VideoThe migrant helping Australia with modified masks
The 'punchline queen' who offended Chinese men
That's not my palace, says Putin
'First Dogs' arrive at the White House
Has US vaccine rollout been a 'dismal failure'?
How India calculates value of women's housework
Boeing 737 Max cleared to fly again 'too early'
What it's like under one of world's strictest lockdowns
Are Egypt's dreams of democracy still alive? VideoAre Egypt's dreams of democracy still alive?
'I couldn't see my baby for eight weeks'
Lyrics quiz
Have you been getting these songs wrong?
Feeling hot
What happens to your body in extreme heat?
That's not my palace, says Putin1
Moderna vaccine appears to work against variants2
Curfew riots rage for third night in Netherlands3
Knightley rules out sex scenes directed by men4
Trump lawyer Giuliani sued by voting machine firm5
Has Sarah Sanders found her political launching pad?6
Chinese and Indian troops 'in new border clash'7
Biden adds South Africa to Covid travel bans8
'First Dogs' arrive at the White House9
Biden overturns Trump transgender military ban10
© 2021 BBC. The BBC is not responsible for the content of external sites. Read about our approach to external linking.