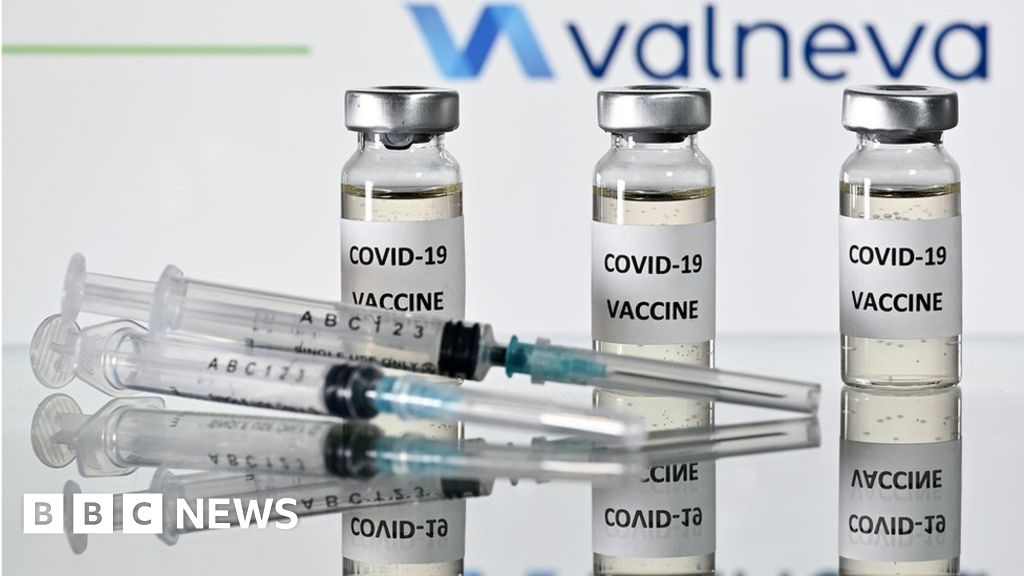 Biotech company Valneva has begun manufacturing a Covid-19 vaccine at its plant in Livingston, West Lothian.
The UK government has pre-ordered 60 million doses of the vaccine, which is still going through clinical trials.
The trials, which began in December, are also now fully enrolled and are expected to report results by April.
Thomas Lingelbach, chief executive officer of Valneva, said the firm was "extremely pleased" to have reached two "important milestones".
The trials are taking place at four National Institute for Health Research sites – Bristol, Southampton, Birmingham and Newcastle.
They will show whether the vaccine produces a safe and effective immune response against Covid-19.
If successful, larger tests will take place in April with more than 4,000 UK volunteers taking two doses.
The Valneva vaccine could be available by the end of 2021.
Valneva will potentially have the capacity to supply up to 250 million vaccine doses to the UK and internationally.
It announced this month it was in "advanced discussions" with the European Commission for the supply of up to 60 million doses.
The French firm currently employs about 100 people at its Livingston site, with the workforce set to increase by 75 as mass production starts.
The vaccine is a type known as an "inactivated whole virus" vaccine, and would require a second dose.
Mr Lingelbach said: "Our team in Scotland have done an amazing job to get manufacturing started so quickly.
"I would like to thank the UK Vaccines Taskforce and National Institute for Health Research who have played vital roles in the rapid recruitment and enrolment of the volunteers for the clinical study.
"We believe that our vaccine, assuming successful development, can make a major contribution in the UK and beyond."
UK Business Secretary Kwasi Kwarteng added: "By starting manufacturing, we will have a running start at rolling these out as quickly as possible to protect the British public if it receives regulatory approval."
Clinical trials begin for Valneva Covid vaccine
Steve Bruce frustrated Newcastle could not hold on to victory against Wolves
Lionel Messi orchestrates Barcelona victory over Sevilla to close on the summit
East Lothian Peeps into the Past: February 23-26 1996, 1971 and 1921
Furious residents brand waste dumped on road 'a disgrace' as council launches appeal to track down culprits
Covid-19 walk-through testing centre opens at Granton
Five vehicles destroyed in fire at Fife Council depot
Information about BBC links to other news sites
Myanmar army sacks UN envoy after anti-coup speech
The ambassador made an emotional appeal urging countries to help remove the military from power.
Single-shot Covid-19 vaccine approved in US
Archaeologists unearth chariot outside Pompeii
A man who tried to help Syria – and was crushed by disinfo
How Billie Eilish became a Superstar ★★★★☆
How Bitcoin's vast energy use could burst its bubble
Monsters, mania and the unstoppable march of Pokémon
India in 'delicate phase' as Covid cases surge
The US president who met Africa's independence heroes
Mourning the sisters killed as they taught handicrafts
The explosive mystery hidden under northern Russia
Lyrics quiz
Have you been getting these songs wrong?
Feeling hot
What happens to your body in extreme heat?
Archaeologists unearth chariot outside Pompeii1
Man killed by his own bird during cockfight2
Myanmar army sacks UN envoy after anti-coup speech3
LeBron vs Zlatan: Who won the politics bout?4
Biden's $1.9tn Covid relief plan passes House vote5
A man who tried to help Syria – and was crushed by disinfo6
Lady Gaga's dogs found safe after armed robbery7
How Bitcoin's vast energy use could burst its bubble8
Capt Sir Tom's 'spirit lives on', says daughter9
US report could dent Saudi Arabia ties for years10
© 2021 BBC. The BBC is not responsible for the content of external sites. Read about our approach to external linking.